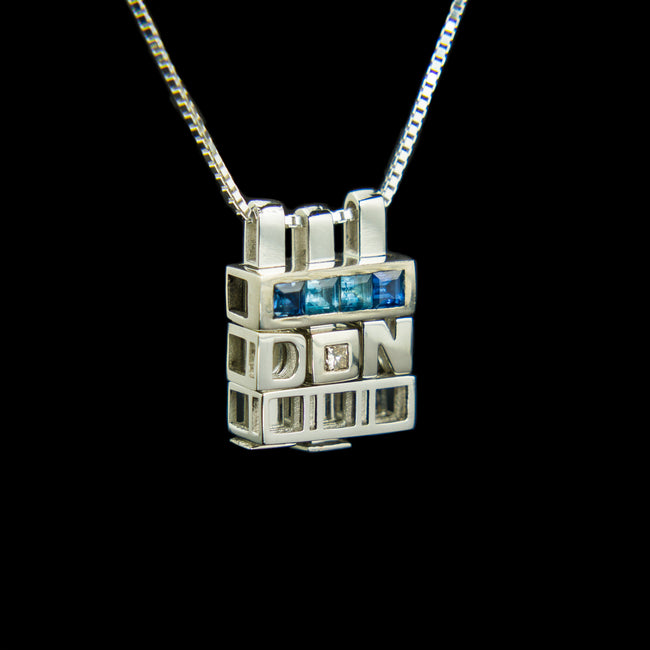 WINTER I Blocks Pendant
Sale price Price $1,431.00 Regular price
Inspired by the beautiful feelings of Winter, this creative piece of jewellery is designed for you to play around with handcrafted individual pieces, add more, remove some and make it your own unique combination.
The Winter I pendant is a combination of five Morphic Blocks connecting with three square base columns. This pendant is made in Rhodium vermeil on sterling silver and the combination is 15mm wide and 20mm height.
Please remember to mention your desired Alphabet Letters Blocks from A-Z  in the comment box when placing and order for this piece to receive your customised Fonts.
You can find more information on the gemstones in our Gemstones Directory.
Blocks and Columns in this Pendant
The Morphic Blocks in this Pendant are:
1. Triple Block with Sapphire and Aquamarine
2. White Letter Block (Letter D is an example block)
4. White Letter Block (Letter N is an example block)
6. Three of Three-Storey Columns with square base
How To Play with the Morphic Blocks
Watch this Video for the inspiration.
The MORPHIC BLOCKS collection is a never-ending game of creativity that invites you to create jewellery inspired by architectural structures. Play around with colourful blocks and make your own unique pieces!
Blocks are cubic units in single, double, triple and quadruple forms that can be hung individually on a chain both horizontally and vertically, or they can be worn in columns. 
Columns are vertical elements that connect the blocks together and they come in one to six storey lengths. They are available with simple square endings or florally embellished endings. 
You can mix and match different Blocks and different Columns to create your own personal piece. Seasons blocks Pendants are our recommended combinations for you to start the game! 
Guarantee
All pieces by Morphic London are hallmarked by the Goldsmiths' Company assay office in London. The series of five marks are applied to each piece that means our jewellery pieces have been tested independently and guarantees their precious metal fineness and quality.   
Shipping
Our pieces are made to order and this means that we handcraft your unique piece in our London studio. So please allow 4-6 weeks for the delivery. If your order is made sooner than expected, it will be dispatched immediately and you will be notified. 
Please contact us here if you need your piece sooner for a special coming occasion, we are here to help.
Your piece will be shipped in our iconic packaging.
You can find more information on delivery and return in Here.